From the 23rd to the 27th of October, hundreds of you took to the streets and went into your communities to deliver the message loud and clear: we demand no borders in the NHS. We are energised and inspired by the success of the Patients Not Passports No Borders In the NHS Week of Action!
Together we are shifting the racist and nationalist tide by refusing to allow our healthcare service to become a tool of hostile immigration enforcement. We are fighting to ensure it stays true to its founding principles: that healthcare should be available to all who need it, regardless of where you're from or your ability to pay.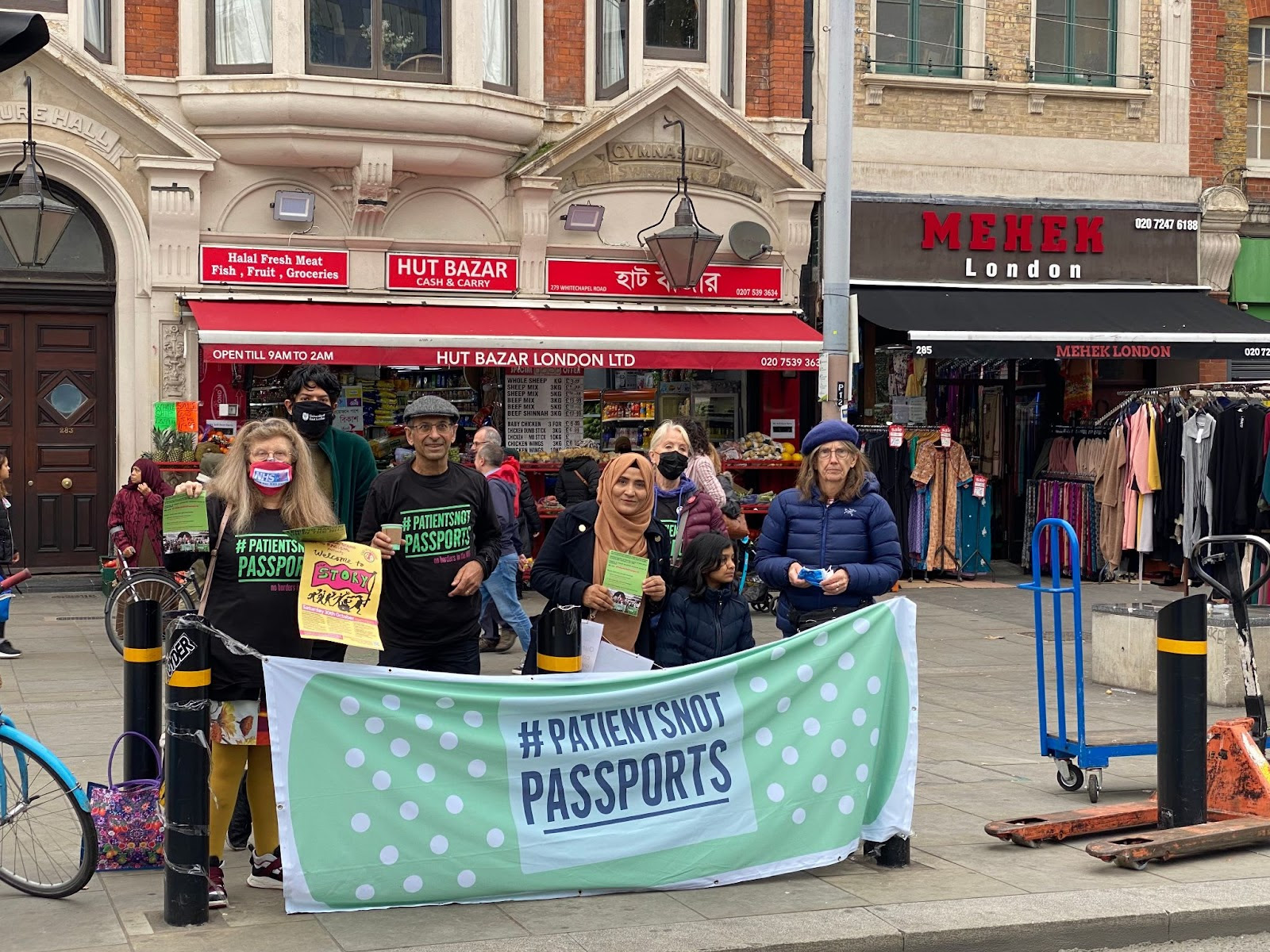 During the week of action…
A UK Border Control checkpoint was erected outside Lewisham Hospital, and local MPs joined Lewisham Refugee and Migrant Network and Save Lewisham Hospital campaigners there in protest of hostile environment policies.
In Sheffield, healthcare workers and migrant justice campaigners handed out leaflets outside the Royal Hallamshire hospital to raise awareness of the #JusticeForSimba campaign and all those impacted by NHS charging. 
Waltham Forest Save Our NHS campaigners and migrant communities held a candlelit vigil in Walthamstow to remember all those whose lives have been destroyed by migrant charging and immigration checks.
Brighton Medact and Sussex Defend Our NHS dropped the 'No Borders in the NHS' banner off Brighton Pier, and organised online training for what to do if you see an immigration raid. Bristol Patients Not Passports chanted 'healthcare is a right' whilst they protested in the city centre.
And in every corner of the country – from Hackney to Hastings, from Lambeth to Liverpool and to Newcastle – people were holding street stalls, handing out leaflets, organising vigils and protests, reading out poems and stories from people affected by NHS charging, and raising banners to demand no borders in the NHS.
Alongside all the action, we've published four (4!) new blogs this week. Whether you're new to the campaign or want to deepen your knowledge, there's something for you, so make sure you give them a read and share! 
Alia Butt, doctor and KONP campaigner, wrote about Privatisation, Charging & the Health Bill. Kirit, a nurse, wrote about the impact of hostile environment policies during the pandemic, particularly on patients and their relationship with healthcare workers. Jess Potter, activist with Docs Not Cops and doctor, wrote about how advocating for patients means speaking up and organising. And Darya and Yajur from Docs Not Cops University of Birmingham  wrote about the foundational principles and values of the campaign, and why we need no borders in healthcare.
Thank you to everyone who organised, supported and joined the week of action, and all who helped us amplify the message online. The action and our campaign does not stop here! 
If you've been inspired to get involved with the #PatientsNotPassports campaign – a national movement to end hostile environment policies in the NHS – take action now by joining the campaign and learning more about the hostile environment.